Live streams
Donosimo vam detaljan program 'University Undergound' eventa
Cijelodnevni program uz video live stream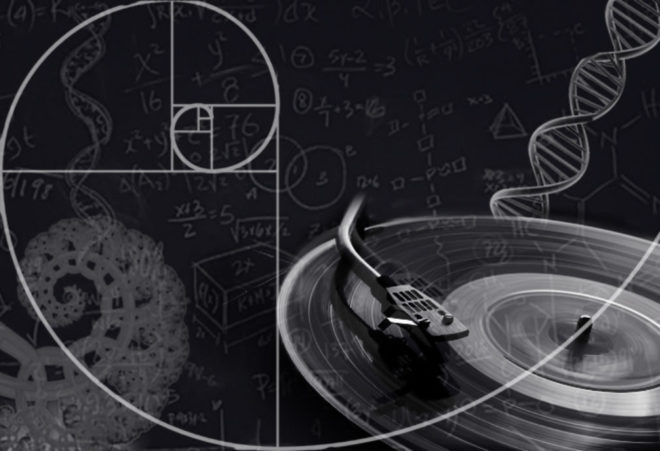 Event 'Mixmag Adria presents University Undergound' na unikatan način objedinjuje glazbu i znanost, a održat će se u Sarajevu, 14. i 15. svibnja, na fakultetu SSST-u, odnosno u suradnji sa 'Sarajevo School of Science and Tehnology'.
U pitanju je cjelodnevni multimedijalni event edukativnog, umjetničkog i zabavnog karaktera u kojem će sudjelovati predavači iz različitih struka, regionalni umjetnici, znanstvenici, profesori, DJ-evi , producenti, novinari, organizatori i promotori.

Mixmag Adria 'University Underground' sastoji se od dnevnog i noćnog dijela. Dnevni dio podrazumijeva predavanja, radionice i 'Rooftop Sessions' na krovnoj terasi Sarajevske škole za nauk i tehnologiju (SSST).
Detaljan raspored programa otkrijte u nastavku:
ROOFTOP SESSIONS

12.00 - Six & Belly
13.30 - Amar Key & Aljosha
15.00 - Struja
16.30 - Klabika Collective
18.00 - Treba mi bass
Pratite video live stream preko linka:

PREDAVANJA
14.00 - 15.40 - Science Underground Academy
- Uvod u nekonvencionalne postmoderne znanstvene prakse
(UR Institut predavači: G.Šutić, M.Golubović)
- Uvod u Postmodernu Znanost + Umjetnost
(UR Institut predavači: G.Šutić, V.Gaćina, M.Golubović)
14.45 - 15.30DJ & PRODUCTION
(M.Tomić, H.Čustović, A.Čalkić nanE)
15.45 - 17.30 - NO LIMITS - kreativna promocija uz minimalna ulaganja
(CFSN)
16.45 - 17.30VISUAL IDENTITY
(Mensur Demir)
17.45 - 18.30 - EVENT ORGANIZATION
(Tomislav Luburić)

RADIONICE

15.45 - 18.00 - DJ & PRODUCTION
15.00 - 18.00 - VJ-ing (predavanje i radionica)
17.45 - 20.00 - VISUAL IDENTITY
UNDERGROUND ON TOP meets Dimensions Sarajevo
21:00 - 23:00 - Haris Čustović (Laus)
23:00 - 01:00 - Funk Guru b2b phillipe (CFSN)
01:00 - 03:00 - Marina Karamarko (THANQ)
03:00 - 05:00 - Mladen Tomić (NightLight)
05:00 - 06:00 - Alexandar Ivkovic (Desolat)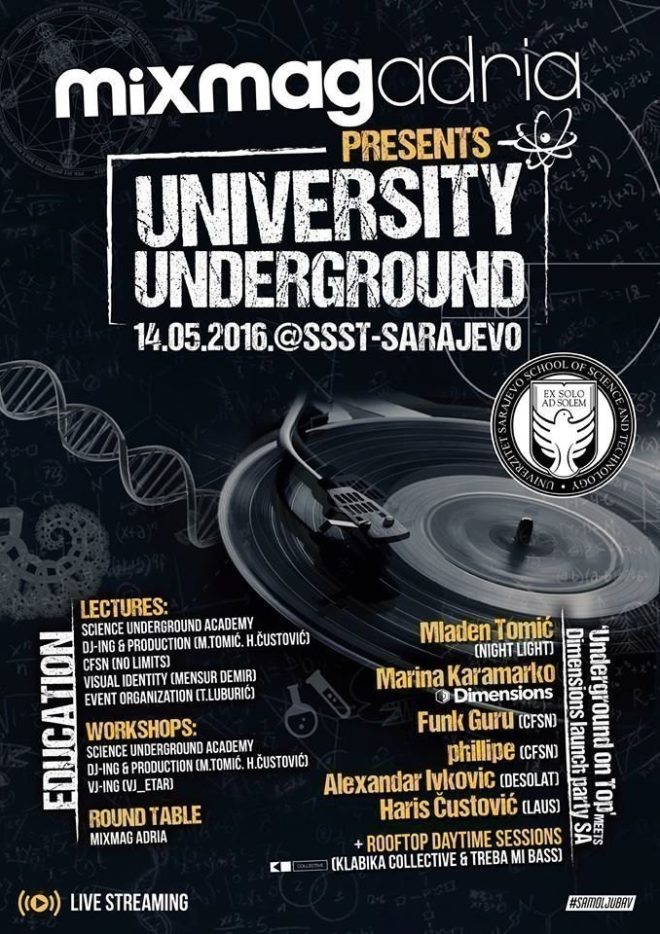 Load the next article