Dodaci
Crna Gora u aprilu: Technasia, Darin Epsilon, Space Cat, Tony Lionni, Keith Carnal....
Na jugu regije već je vruće
Mixmag Adria
5 April 2017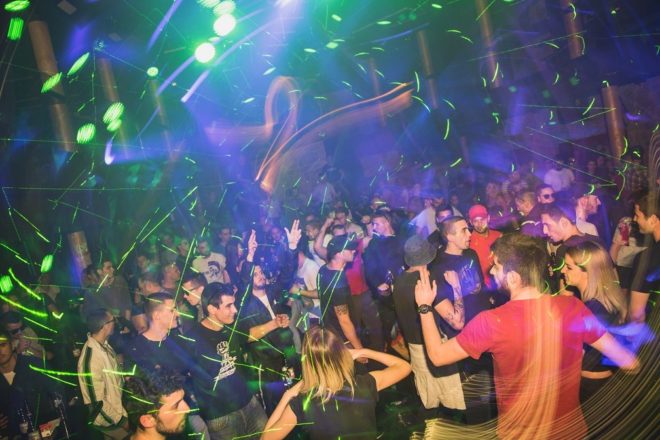 Crna Gora postaje poprište sve jačih elektronskih događanja, s kojima i publika raste, što rezultira sve boljim partyjima na samom jugu regije. Za ovaj mjesec ima i nekoliko premijernih nastupa u Crnoj Gori.
Kako se ljeto bliži, tako su i eventi sve primamljiviji i atraktivniji, pa ćemo tako u aprilu plesati na sljedećim događajima:
Kad: 7. aprila
Gdje: Maximus, Kotor


Još jedan velikan svjetske elektronske scene, Technasia, poznat po energičnom technu i hitovima kao što su 'Oxide', 'Hydra', 'Force' i drugi, dolazi u kotorsku arenu po prvi put. Uz njega će nastupiti P.S., Raven TK i Darko Milošević.


Kad: 13. aprila
Gdje: KLUB, Podgorica


Click2Dream, KLUB i posljednji event za ovu sezonu ugostit će Bojana Vicentijevića aka Bokee iz Beograda, uz kojeg će nastupiti AudioStorm, čime zatvRju uspješni klupski serijal žurki u Podgorici.


Kad: 14. aprila
Gdje: Maximus, Kotor
U Maximusu nastavljaju sa svojim uspješnim serijalom trance partyja, pa tako za pult elektronske kraljice dolazi čuveni izraelski producent i DJ Space Cat. Domaću podršku pružaju Aquapipe & Chandra.



Kad: 14. aprila
Gdje: District klub, Podgorica


Nakon himne 'Found A Place', koja je izašla preko Ostgut Tona za Berghain te bila proglašena jednim od top house traka dekade, Lionni je izdao album preko Freerange Records, nakon čega je uslijedilo i još izdanja za Defected, Madhouse, Aesthetic Audio. Njegov glazbeni stil je savršena fuzija Detroit techna i deep housea, a s njim će nastupiti GileRZ & Cule (Beat At Joe's).


Kad: 21. aprila
Gdje: Maximus, Kotor

U petak, 21. aprila će se za mix pult čuvene crnogorske elektronske katedrale popeti internacionalni DJ, producent, radio host i vlasnik etikete, Darin Epsilon. Jedan od lidera zvuka, izdavao je za Bedrock, Global Underground, Sudbeat i mnoge druge labele, a vlasnik je i Beatport nagrade za Najboljeg Progressive House artista. Njemu se pridružuje i jedan od najboljih progressive producenata u regiji, AudioStorm te Double Needle Project.


Kad: 29. aprila
Gdje: Maximus, Kotor
Nizozemski DJ i producent Keith Carnal nastupit će na koncu mjeseca premijerno u Maximusu. Nakon Velike Britanije, Njemačke, Španjolske i Beograda, dolazi u Kotor predstaviti svoje bogato stvaralaštvo, a podršku za ovaj party pružaju Sugar Lobby i TZ Project.

'Dreams Are Not Inside' showcase
Kad: 29. aprila
Gdje: Skadar Lake, boat party
Click2Dream vam predstavlja svoj prvi 'open air' event za ovu godinu i to na brodu na skadarskom jezeru. 'Dreams Are Not Inside' je etiketa osnovana 2015. godine, a jedan od njenih osnivača je Petar Cvetkovic. Label njeguje underground tech, minimal i house zvuk, a na boat partyu nastupit će Petar Cvetkovic, Aleksandar Grum, Goya, Branko Vuković.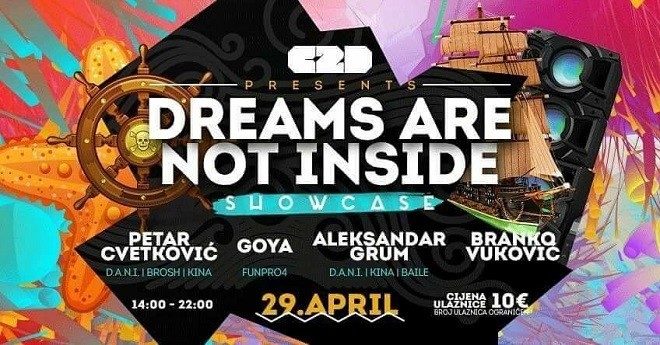 Load the next article...