Glazba
Rudimental najavio dugoočekivani novi album 'Toast To Our Differences'
Poslušajte naslovnu traku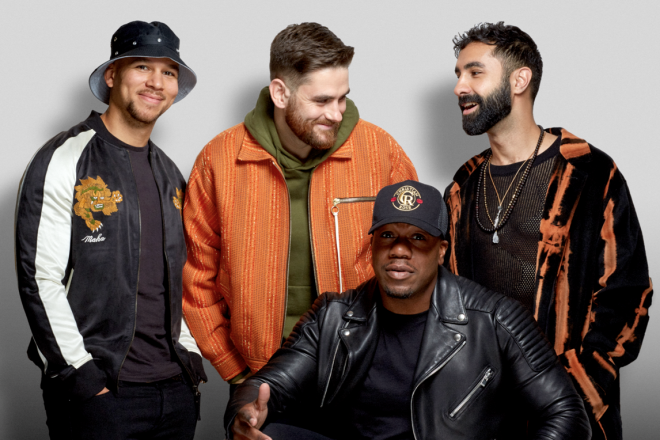 Britanski kolektiv Rudimental je najavio izdavanje njihovog trećeg albuma 'Toast To Our Differences' koji treba izaći ovog septembra na Major Toms.
Uz imena poput RAYE, Kojey Radical, Macklemore, Jess Glynn i druge najavljene artiste na albumu, na novom projektu ih gledamo u suradnjama s nizom međunarodnih talenata kako bi oformirali prirodni nastavak svojeg potpisnog zvuka.
Prema priopćenju za javnost, novi album je "bogat plod posljednje tri godine rada kolektiva i umjetnička izjava u sebi. Napisano kao empatično slavlje ljudskih razlika i spajanje zajednica kultura i žanrova, izdanje definira progresivni Rudimental - kolektiv koji prkosi žanru koji i dalje mijenja lice plesne glazbe ".

'Toast To Our Differences' izlazi 7. septembra na njihovoj etiketi Major Toms putem Asylum Records. Pre-order možete napraviti ovdje.
U nastavku možete pogledati listu pjesama i poslušati naslovnu pjesmu.
1.Toast To Our Differences (ft Protoje, Hak Baker & Shungudzo)
2.Let Me Live
3.Dark Clouds ft Jess Glynne & Chronixx
4.Walk Alone
5.Ladysmith Skit
6.These Days ft Macklemore, Jess Glynne & Dan Caplen
7.Sun Comes Up ft James Arthur
8.1x1 (ft Maleek Berry & RAYE)
9.Last Time (ft Raphaella)
10.No Pain (ft Maverick Sabre & Kojey Radical )
11.Scared of Love
12.Summer Love
13.They Don't Care About Us (ft Yebba & Maverick Sabre)
Deluxe
14.Do you remember f(t Kevin Garret)
15.Leave it for tomorrow
16.Adrenaline
Load the next article...