Podcast
The Sound Of Adria 012: PEZNT
Nova, 12. epizoda je ovdje!
Mixmag Adria
29 January 2019
Mixmag Adria je u suradnji s duom 84Bit (kojeg čine Jovic Evic i A.P.), pokrenuo jedinstveni novi podcast u kojem će gostovati niz regionalnih imena iz čitavog spektra elektroničke glazbe.
The Sound Of Adria podcast sastoji se od dva miksa; jedan dolazi od rezidenta, već spomenutih 84Bit, a drugi od gosta koji će se mijenjati iz epizode u epizodu.

Jovic Evic (Nikola Jovićević) iz Nikšića i A.P. (Miloš Rakonjac) iz Herceg Novog, trenutno žive i rade u Novom Sadu, a imaju velike planove za budućnost.
Individualno su na regionalnoj sceni prisutni već 17 godina, a glazbu izdaju, isto tako individualno, od 2008.
Zajednički projekt započeli su u aprilu 2016. Njihova izdanja nasla su se na I Love Techno Records UK, Good For You Records, Caballero Records, Blacksoul Music i na vlastitoj etiketi 84Bit Music, koja je u potpunosti posvećena izdanjima koja odišu kreativnošću i slobodnom pristupu njihovog kreiranja.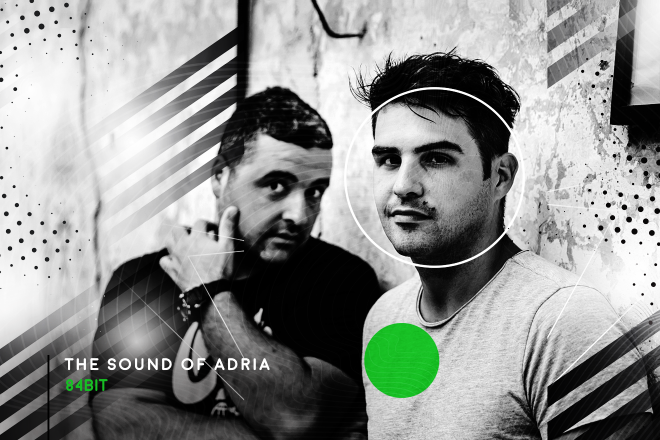 Nakon Mladena Tomića, 12. gosti TSOA podcasta su PEZNT.
u 12. epizodu napokon stižu PEZNT, dvojac koji je prošle godine osvojio Ambasador nagradu za singl godine, a njihovo ime se našlo i na drugom mjestu naše liste 30 najboljih regionalnih producenata 2018.
Momci su upravo izbacili svoj drugi EP za DFTD, nakon niza odličnih izdanja za brojne etikete poput Strictly Rhythma, Lapsus Musica, Glasgow Undergrounda, Motive Recordsa i velikog Dirtybirda. Ovaj dvojac je pokrenuo projekt 2016. godine, i od tada su nezaustavljivi u svojem naumu da pokore house svijet, i kako se trenutno čini, više to i ne zvuči tako nemoguće. Koketiraju s house i tech house zvukom, funky vokalima, bolesnim synthevima kad je to potrebno ('Breakfast' na Dirtybirdu) i uvijek kvalitetnim house grooveom koji od vas traži samo jedno - ples.

Tracklist i oba miksa možete pronaći niže.
Tracklist:
Resident Mix: 84Bit
1. 84Bit - Yes I Do (Original Mix) [Good For You]
2. 84Bit - NOE (Original Mix) [Bobbin Head Music]
3. 84Bit - Vratice Se Rhodes (Original Mix) [Plastik People]
4. 84Bit - ID (Original Mix)
5. 84Bit - Lose Myself (Original Mix) [Phoenix Music]
6. 84Bit - Set My Soul Free (Original Mix) [Let There Be House]
7. 84Bit - Connected (Original Mix) [Dobar House]
8. 84Bit – Ghetto Funk [Transcendance Music]
9. 84Bit – Luna [Randewu]
10. Andre Rizo – Save Me (84Bit Rmx) [Deepalma]
11. 84Bit – Yabu Dale [Artefact]
Guest Mix: PEZNT
01. Dancing (ReRub Mix) DFTD/Defected
02. Freedom (Original Mix) /DFTD/Defected
03. Toxic Love ft Gregers (Original Mix) /DFTD/Defected
04. Dance On ft Andy Roda (Original Mix) /Blacksoul Music
05. Pelin (Original Mix) /Strictly Rhythm
06. Kaymak (Original Mix) /Blacksoul Music
07. Son Of A Gun (Original Mix) /Motive
08. You Got Me ft Sheree Hicks (Original Mix) /Nervous
09. Down Under (Original Mix) /DFTD/Defected
10. Dance Naked /Big Beat/Atlantic
11. Breakfast ft Born I Music (Original Mix) /Dirtybird
12. Burek /Blacksoul Music
13. Robi Ivek (Original Mix) /Lapsus
Load the next article