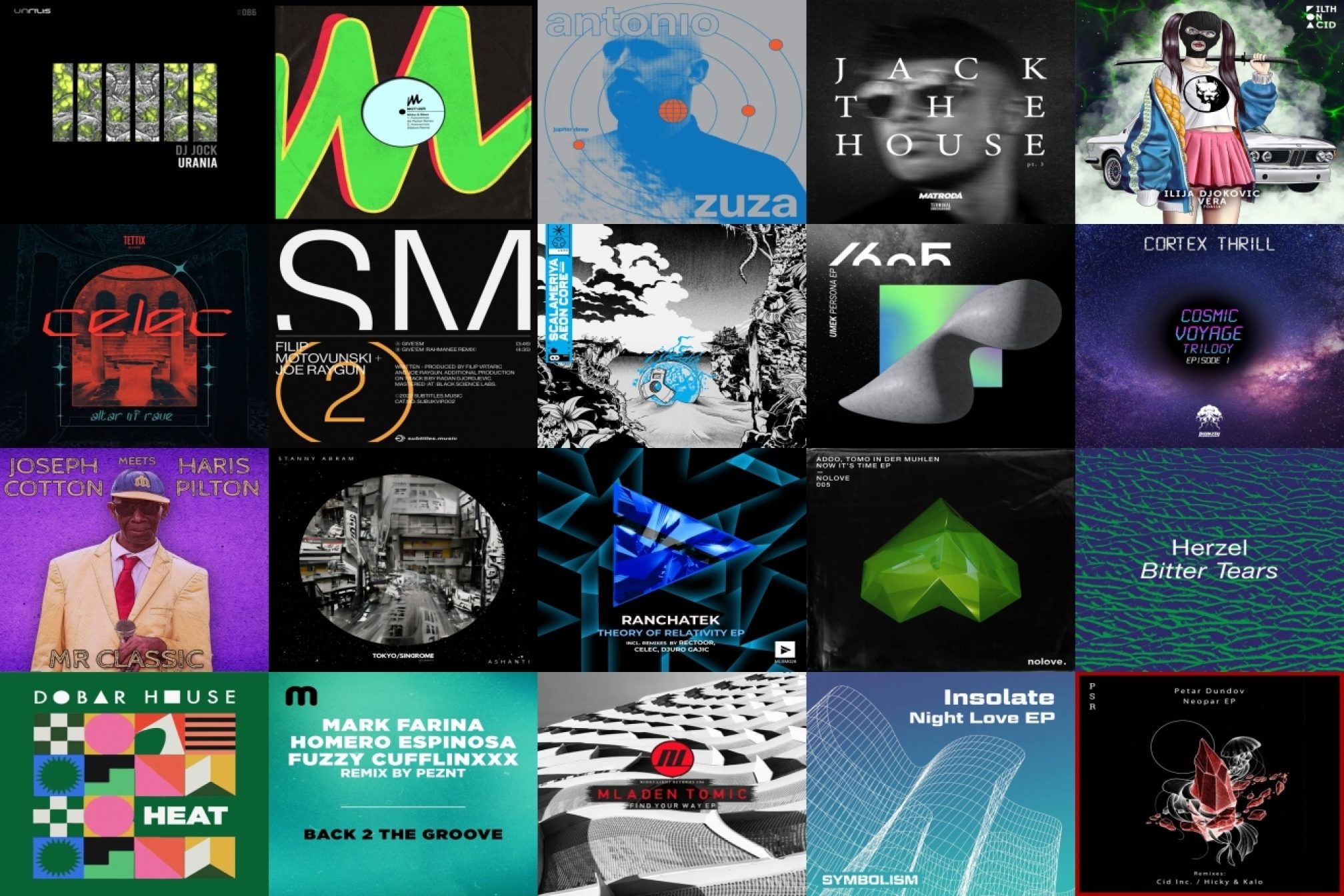 Blog
Najboljih 66 regionalnih izdanja u 2022.
Godišnja selekcija regionalnih izdanja (abecednim redoslijedom)
Arsen Pavešić I Foto: Promo
24 December 2022
Mixmag Adria želi vam vesele i plesne blagdane, a uz našu čestitku idu i tradicionalne, godišnje, glazbene rekapitulacije. Godina koju je, nakon pandemije, obilježio povratak na plesne podije, odisala je novim valom entuzijazma, kako kod onih koji su jedva dočekali priliku da zaplešu na flooru svog omiljenog kluba ili festivala, tako i kod djelatnika na sceni iz svih domena. Pozitivna energija i kreativni naboj, posebno se osjetio kod izvođača i autora glazbe, čemu smo svjedočili i kroz mnoštvo odlične glazbe, objavljene u 2022. Stoga je, izdvojiti naslove za godišnju selekciju, bio posebno zahtjevan zadatak, što je razlog ovom neobičnom broju u naslovu (iako bi ih moglo biti i dvostruko više). Prva je na redu selekcija albuma, EP-a, singlova, kompilacija i remikseva s potpisom autora iz naše regije i to abecednim redoslijedom...
Adoo & Tomo in der Muhlen - Now it's time / No Love
Aklea Neon - Dođi na joji / Records DK
Alavux feat. JJ MC - Ghetto Trash EP / 0ktag0n
Alen Milivojević, Drzneday - So Lost / Unity
Alen Selestrin - Dimensions EP / Translucent
Andrej Laseech - Electrifying Cosmos / Sound Exhibitions
Aney F. - 10 years of Innocent Music / Innocent Music
Antonio Zuza - Jupiter Deep / Imogen
Art Was Art - Control, The Awakening, Moment / ZEN DNA
Banana Zvuk - Legaliziraj Remixes / PDV / Aquarius
Bilboni - Weak / Orange
Billain - Lands Unbreached / Renraku
Black Techno - Sweep / Urban Kickz
Celec - Altar of Rave / Tettix
Cortex Thrill - Cosmic Voyage Trilogy 1-3 / Bonzai Progressive
Crazy P - Night Rain (Ilija Rudman's Higher Ground mix) / Walk Don't Walk Limited
Dalton Trance Teleport - Future Tribes / Blue Tunes Chillout
Dejan Milićević - Vezotonik 3 / Vezotonik
DJ Jock - Urania / Unrilis
Dom3n & I-K-O - Matthias Corvinus / HEIMISGARØR
Dosia - Boxed Off / Framed
Dr.Obi & Anja G - Moonlight / AmpliFyah
DubDiggerz - 11LP / Deep End
Egoless - Mind the Zaps / Immaimma
Filip Motovunski & Joe Raygun - Give'em / Subtitles Music
Fiume - Fiume II / L.I.E.S.
Haris Pilton meets Joseph Cotton - Mr Classic / self-release
Herzel - Bitter Tears / Funnuvojere
Ida Prester - Luda Remixes / PDV Records
Ilija Djokovic - Vera / Filth On Acid
Ilija Rudman presents Meteor One - Partition A/B / New Directions In Funk
Insolate - Night Love / Symbolism
Ivan Komlinović - Lost Projects vol.1 / self-release
Klaada - Coniunctio Oppositorum / Mindspring
Koolade - Lover's Lane / Koolade Productions
Lag & X-Coast - XL Traxx / Rekids
Mark Farina - Back 2 Groove (PEZNT remix) / Moulton
Matroda - Jack the House 3 / Terminal Underground
Matroda - Hazy / Insomniac
Mene, Joe Vanditti - Antava / Muse
Milo Raad - Sidata / MindTrip
Miloš Vujović & Baliaal - Feel Alive / Black Kat
Miloš Vujović & Filthy Kid - Raveolution / Unrilis
Mirko & Meex - Forevermore (Remixes) / Motive
Mladen Tomic - Find your way / Night Light
Petar Dundov - Neopar / Plaisirs Sonores
RanchaTek - Theory of Relativity / minimalism
RanchaTek & Phased - Cosmic Dream / IAMT
Razbibriga - Zeta / Promena
Razni Izvođači - Konekt support the locals vol​.​1 / Konekt Croatia
Razni Izvođači - Dobar House Heat, vol. 4 / Dobar House
Razni Izvođači - Perspective Rijeka 2021 / Dallas
Razni Izvođači - Seven / Thanq
Razni Izvođači - What Never Was Vol.IV / LXVIII
Reblok - Bardo / Repopulate Mars
Scalameriya - Aeon Core / Perc Trax
Sev Dah - Eternal Flame / Proletarijat
Sinisa Tamamovic - Passion / Night Light
Soulfreq - Disco Ride / Dobar House
Stanny Abram - Altarpiece Blob / Eichtal
Stanny Abram - Tetralogy / ZEN DNA
Strahinja Arbutina - Flatlining / low income $quad
Teo Harouda - Kilijoy / Aceton Music
Time to Sleep - Vedorna / Feines Tier
Umek - Persona / 1605
Vegim & Flekitza - Shifting Operations / Take More Music
Volster - Exposition part 1 / Secession
Zarkoff - Completed with Errors / Tripalium Corp
Next Page