Eventi
Defected Croatia 2023
Objavljen je cjelokupni program za ovogodišnje izdanje festivala
Mixmag Adria I Foto: Promo
31 March 2023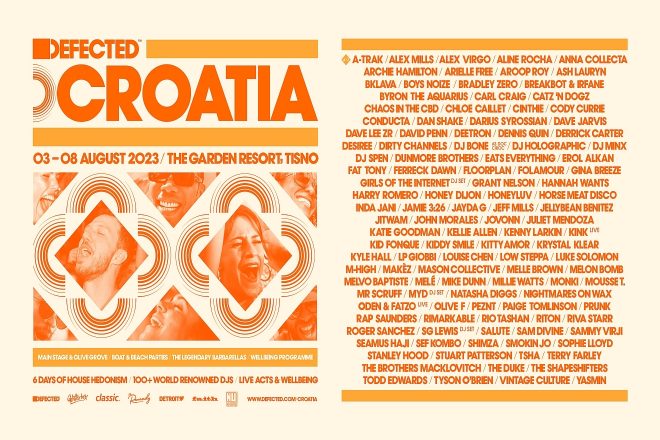 The Garden Resort u Tisnom i ove će godine ugostiti Defected Croatia tjedan i to od 03. do 08. kolovoza, a ovih je dana kompletiran i glazbeni program koji uključuje i prva pojavljivanja na festivalu izvođača kao npr. Chaos in the CBD, Louise Chen, Kyle Hall, Riton, Hannah Wants, Aroop Roy ili Conducta. Osim toga, u trećoj i posljednjoj fazi najavljeni su i Melle Brown, Harry Romero, Makéz, HoneyLuv, Seamus Haji, Bklava, Deetron, Erol Alkan, Smokin Jo, Vintage Culture, PEZNT i dr...
Svi oni pridružit će se, već prethodno najavljenim zvijezda, u najbogatijem glazbenom programu dosad. Podsjećamo, u prijašnjim su fazama potvrđeni nastupi Carla Craiga, Honey Dijon, Rogera Sancheza, Natashe Diggs, Jeffa Millsa,
Shapeshiftersa, Jellybean Beniteza, Cinthie, Mikea Dunna, Nightmares On Wax, Todda Edwardsa, Derricka Cartera i mnogih drugih...
Pretprodaja ulaznica putem sustava Entrio.
Load the next article