Novosti
A Oscara dobiva... H.E.R.
Američka R&B kantautorica nagrađena je za svoju pjesmu "Fight For You" iz filma "Judas and the Black Messiah"
Mixmag Adria I Foto: Facebook
27 April 2021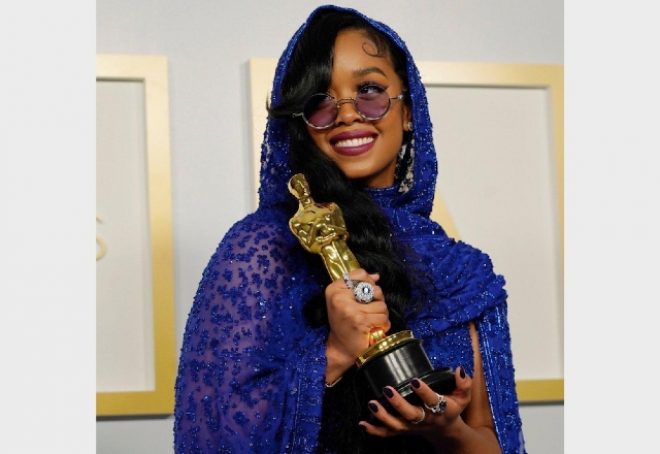 Pjesma "Fight For You" R&B zvijezde H.E.R. nagrađena je Oscarom za najbolju originalnu pjesmu na 93. izdanju ove prestižne nagrade. Pjesma je iz filma Shake Kinga "Judas and the Black Messiah", američke drame o izdaji Freda Hamptona (Daniel Kaluuya), predsjednika odjeljka stranke Crnih Pantera iz Illinoisa kasnih 1960-ih u Chicagu, od strane Williama O'Neala (Lakeith Stanfield), doušnika FBI-a. H.E.R. ju je napisala i producirala zajedno s Tiarom Thomas i D'Mileom a pjesma je proglašena najboljom u konkurenciji s pjesmama iz filmova "Eurovision" ("Husavik"), "The Trial of the Chicago 7" ("Hear My Voice"), "The Life Ahead" ("Io Sì (Seen)") i "One Night in Miami" ("Speak Now").
"Jako, jako sam zahvalna, ne samo što sam pobijedila, nego i što sam dio tako važne, važne priče", H.E.R. je rekla je u svom govoru zahvale. "Hvala Akademiji - oduvijek sam to željela reći! Moram zahvaliti Bogu što nam je dao sve ove darove. I mojim roditeljima, mojoj lijepoj majka koja je danas ovdje sa mnom i mom ocu kod kuće; svi oni dani slušanja Sly & the Family Stonea i Curtisa Mayfielda i Marvina Gayea zaista su se isplatili, zato hvala, tata."
Poslušajte "Fight For You" u nastavku, u live izvedbi na dodjeli Oscara.
Load the next article