Eventi
The Chemical Brothers stižu u Zagreb!
U Dom sportova stižu u sklopu velike svjetske turneje kojom promoviraju album "No Geography"
Mixmag Adria I Foto: Hamish Brown (promo)
24 July 2019
Jedno od najutjecajnijih imena elektroničke glazbene scene - The Chemical Brothers, u sklopu velike svjetske turneje "No Geography", kojom promoviraju istoimeni album, stižu i u Zagreb - 12. listopada u Dom sportova, službeno je potvrđeno i na stranici benda!
Velika turneja uključuje svjetske festivale, od Meksika do Australije, preko Glastonburyja u Velikoj Britaniji do Fuji festivala u Japanu, a koncertna postaja bit će i Zagreb, i to uoči velike završnice u O2 Areni u Londonu!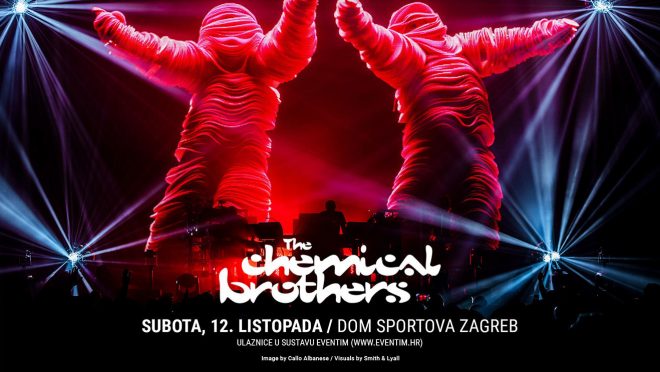 The Chemical Brothers više od 20 godina definiraju elektroničku glazbu, a njihovi nastupi uživo evoluirali su od skromnih londonskih klubova do najvećih svjetskih pozornica. No osnovna ideja je ostala ista: njihov koncert kreira transcendentalni audio-vizualni prostor kojem se publika jednostavno prepusti i izgubi u njemu! Nastupi ovog electro dvojca nisu samo DJ setovi već kompletan vizualno glazbeni događaj praćen spektakularnom vlastitom produkcijom, kojom stvaraju sasvim novo iskustvo i jedno od najzanimljivijih doživljaja glazbe općenito.
Skupinu su osnovali Tom Rowlands i Ed Simons, a duo iz Machestera se uz The Prodigy i Fat Boy Slima smatra jednim od pionira big beat žanra elektronske glazbe. U travnju ove godine objavili su novi, deveti po redu studijski album "No Geography" (Universal Music), koji je naišao na izvrsne reakcije i publike i kritike, s istaknutim singlovima i vrhunskim videospotovima "Eve Of Destruction", "Got To Keep On", "We've Got To Try"...
The Chemical Brothers po prvi put stižu u Zagreb, a posljednje samostalno gostovanje u Hrvatskoj, prije skoro 10 godina na Pagu, bilo je rasprodano. Ulaznice za koncert The Chemical Brothers u Domu Sportova u prodaji su putem sustava Eventim po cijeni od 430 kn za parter te 350 kn za tribine.
Load the next article