Novosti
Dimensions Festival predstavlja cijeli lineup svog ovogodišnjeg izdanja
U Tisno dolaze DJ Bone, Helena Hauff Invites, DJ Stingray 313, Objekt, Anz, Dr Banana, Donato Dozzy, Hieroglyphic Being (live), The Ghost, LTJ Bukem & MC Lowqui, Nicolas Lutz i mnogi drugi
Mixmag Adria I Foto: Press
23 January 2023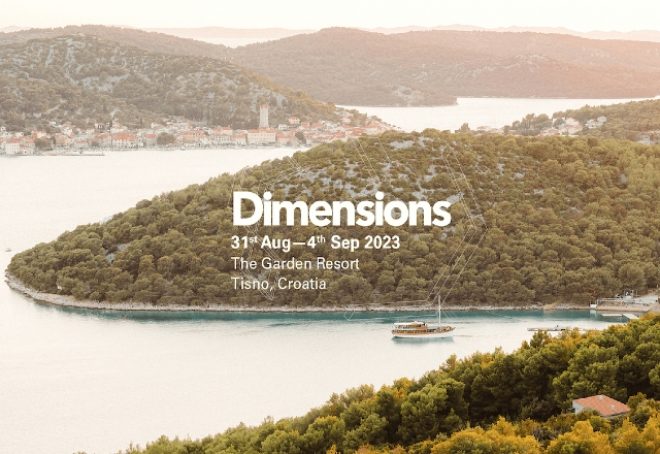 Dimensions Festival upravo je predstavio cijeli line up svog ovogodišnjeg izdanja koje će se održati od 31. kolovoza do 5. rujna u The Garden Resortu u Tisnom. Očekuje nas još jedna mješavina kultnih zvijezda, legendi ali i novih talenata, kao i slavnih boat i label partyja, live nastupa, b2b ekskluziva i još puno toga Za sve informacije i ulaznice posjetite www.dimensionsfestival.com.
Prostrana, osamljena uvala, visoki borovi i prekrasni pogledi na more hrvatskog Garden Resorta pokazali su se kao savršeno okruženje za Dimensions, koji se sastoji od visokokvalitetne produkcije, pažljivo odabranih nastupa i mnoštva ljubitelja glazbe. Dosadašnjih deset izdanja pokazalo je svu raskoš festivala, bilo da je to dok isplovljavate s brodom na jednom od niza iznimno popularnih boat partyja, bilo dok se sunčate a DJ-evi vrte tople ritmove na plaži, dok plešete na afteru ili pod zvjezdanim nebom u kultnoj Barbarella's diskoteci.
Dimensions je ovog ljeta ulio srce i dušu u još jedan bogat i raznolik glazbeni program koji pokriva sve nijanse bassa, housea, techna, electra, garagea, disca...
U nastavku provjerite cijeli line up, a ulaznice i ostale detalje provjerite OVDJE.
Lineup
Adam Pits & Lisene - Space Cadets, Albin, Aletha, Alex Kassian, Andy Luff, Anz, Bluetoof, Borys & Noizar, Bugs Groove, Carl H, CCL, Christian AB b2b Quest, Craigie Knowes, d.phylleia, David Martin, DJ Assault, DJ Bone (Electro Set), DJ Masda b2b Evan Baggs, DJ Perception, DJ Pipe, DJ Stingray 313, DJ Voices, Donato Dozzy, Donna Leake, Dr Baird, Dr Banana, Dr Rubinstein, Eich, Enchanted Rhythms, Enrica Falqui, Flo Dill, Francesco Del Garda, Freakenstein, Full Circle - Alexis Le Tan & Joakim, Fumiya Tanaka, Gabbs, Garrett David, Gene On Earth b2b Dyed Soundorom, GiGi FM, Guy Contact, Hamish & Toby, Harri Pepper, Heels & Souls, Helena Hauff, Hieroglyphic Being (live), Inner Zone, Iration Steppas (live), ISAbella, Jack Wrenn, James Andrew & Charley, James Falco, Jaye Ward, Jen Harkness, Joe Delon, Joe Gill, Josey Rebelle, Junior, k means, Kold Faction, KRN, L.F.T., Lady Passion, Laidlaw, Liquid Earth, Lora Mipsum, LTJ Bukem & MC Lowqui, Lucy Cook, Mala, Malika, Mari.te, Matthew Neequaye, Matthias, Melody, Migz, Mother Earth, Neel, Nicolas Lutz, Nite Fleit, Objekt, OCB aka Driss Bennis Live, OK Williams, Om Unit, Onur Özer, Paquita Gordon, Paramida, Peach b2b Sugar Free, Pete Melba, Prosumer, Raphael Carrau, Rasho, Ron Obvious (live), Roza Terenzi b2b D Tiffany, Sean OD, Selfhood, Simon Scott, Skee Mask, So-Fi, Steevio Live, Sweely, Sybil, T. Jacques, Tasha, The Ghost, Tho & Loren, Tim Reaper, Tini b2b Doudou MD, Tony Neptune, Travis, Tristan Da Cunha, Truly Madly, Unai Trotti, Velvet Velour, Voigtmann, Vrm Vrm, XDB, Youandewan b2b Huerta, [email protected] Live, Zip
PARTNERI
25 Years of Subdub, Butter Side Up, Cartulis, Casa Voyager, Club Cosmos, Craigie Knowes, DJ Stingray 313 Presents, Dr Banana, Fabric, Freerotation, Heels & Souls, Helena Hauff Invites, MARICAS, MUDD Show, Outlaws Yacht Club, Picnic, Planet Euphorique, Resident Advisor, SlapFunk, space•lab, Spaced, The Ghost, Tribe Records, Tromme
Load the next article